"Leis of Hawaii"

Welcomes You With Much Aloha!
---
Airport Scheduling - Lei Greeting - 2013
Toll-Free Reservations: 1-866-934-7338 (1-866-WE-GREET)
Toll-Free Customer Service: 1-888-534-7644
Honolulu Office: (808) 732-7385
Owner: Kaipo Cell: (808) 781-1043 / President: Frank Cell: (808) 781-1260 / Vice President: Kamanao Cell: (808) 282-6202
Please use this link – www.airportleigreeting.com/airportscheduling2013.html
2012
2013
Honolulu
Honolulu
Maui
Maui
Kona
Kona
Kauai
Kauai

Date: January 2013

Aloha Greeters,

The New Year has approached us and there will be many changes in our greeting service department.

First of all, your badge should have been renewed.

Second, we will be in the process of acquiring new accounts on a daily bases so check on schedules every day if possible.

Third, please setup a monthly schedule and forward it, so that if you are in school, working part time some where else we would know how to schedule you.

Use this link to great your free monthly calendar - http://www.calendarlabs.com/printable-calendar.php?template=tP1m

If you have any questions, please feel free to call me at the office (808) 732-7385 or on my cell (808) 781-1043

Best Regards,

<![if !vml]><![endif]>

From Hawaii

Kaipo

Owner

Hi gang!!!
I would like to know what your schedule is for the rest of the month.
I'm trying to make the scheduled flights available for any greeter willing to work.
As you know we always have last minute flights and knowing your schedule will help me greatly.
If you have any questions or concerns, please do not hesitated to call me anytime.
Office phone: (808) 732-7385 / Cell phone: (808) 781-1043
Always, Kaipo
EMPLOYMENT
Job Description & Application for Airport Lei Greeters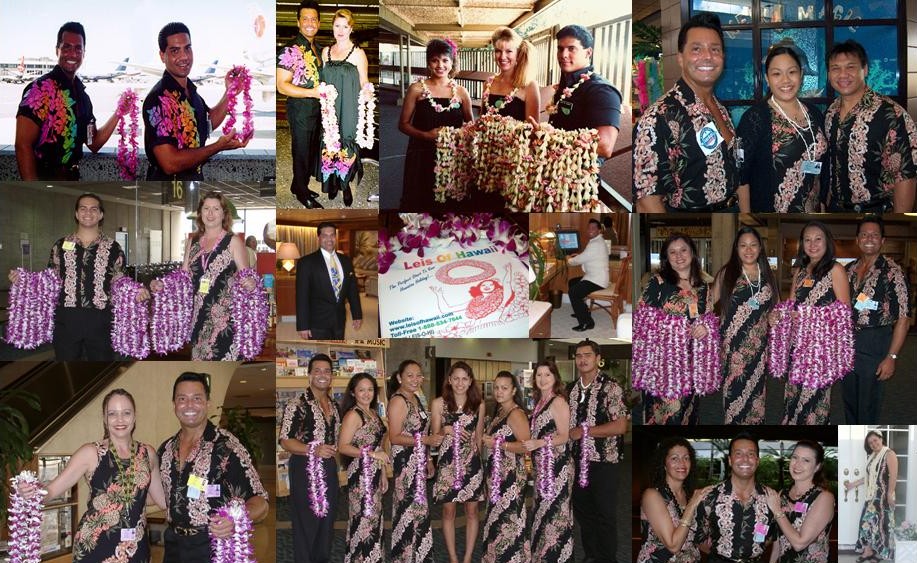 Return to:
AIRPORT LEI GREETING 2013
LEIS OF HAWAII or LEIS OF HAWAII Home Page
Aloha Flowers & Leis | Aloha Leis & Flowers | Aloha Leis, Flowers & Greeting Service
Wholesale 9 Leis Gift Pack | Wholesale 6 Orchid Gift Pack
Wholesale Hawaiian Leis | Wholesale Flower Leis | Wholesale Leis
Airport Lei Greeting | Hawaii Flowers & Leis | Hawaiian Silk Flower Leis | Island Leis
Lei Greeting Service | Fresh Flower Leis | Money Roses | Money Flowers
Travel & Tours/Activities | Limousine Transfer | Polynesian Brown Tanning Oil | Polynesian Brown Oil
Hawaiian Silks Floral Accessories | Men's Or Ladies Raffia Skirt | Plastic Orchid Sprays
Feather Roses | South America Roses | Rose Buds Paves With Dew Drops | Rainbow Lei
Frank & Kaipo Productions | Advertise On The Internet | International Real Estate Investment Group
International Interior Design | Privately Arranged Security Service | Hawaiian Wedding
Clients Wedding Flowers | Mall Specials | The York Foundation | HNL 1997 Calendar
Private Collection | Clients receive Fresh Flower Leis | Family & F.I.T.'s Arrival | V.I.P's Arrival
Groups Arrivals | Hawaiian Christmas In Chicago | American Dental Association ADA '99
Grueninger Tours King Kamehameha Day Parade 2001
Northwest Airlines - Local 2000 Retirement Party
President Barack Obama - In Honolulu, Hawaii
President Bill Clinton - In Honolulu, Hawaii | President George Bush - In Honolulu, Hawaii
Toy Boys Hawaii | Universal Body Fitness | Toy Girls Hawaii

Approximately

people are visiting this site.







Hawaii Cruises - Get information about Hawaii Cruises,

Islands, History and Maps. We only do Hawaii Cruises!